Capital Retreat Center hosts 120+ events annually and upwards of 12,000+ individual guests.  Reservations change daily, so timely reservations are always recommended to book your first choice of dates, accommodations and meeting spaces.
Nestled between serene lakes and surrounded by the Appalachian Trail, our first -class facility awaits your group in the stunning Catoctin Mountains of Pennsylvania. We are conveniently located in the Mid-Atlantic region, close to Washington DC, Baltimore, Philadelphia, New York, Virginia, and three major airports (Baltimore Washington International (BWI), Reagan National (DCA) and Dulles International (IAD). The opportunities for a fabulous event are limitless. From exceptional food to comfortable lodging and outdoor team-building activities to audio visual presentations, our priority is for you to feel, look and sound great!
From the moment you step foot onto our newly renovated 270-acre campus, you are immersed in a unique, welcoming and comfortable environment. Our caring and attentive customer service staff provide personalized service to make every meeting or event a success. We host a wide variety of participants and groups, including:
Adults – corporations, associations and government organizations for meetings, development seminars, leadership trainings, environmental education and team building.
Youth – schools, clubs, religious groups, and sports teams for conventions, trainings and outdoor/environmental education programs.
Families– reunions and life-cycle events, including B'nai Mitzvot and other special occasions.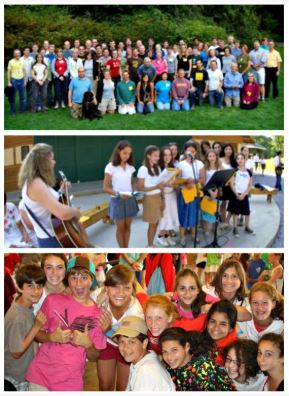 During your stay you will live comfortably and eat well in a peaceful setting that promotes meaningful personal and professional relationships.  With years of experience, our seasoned professionals understand the value of these profound and transformational experiences.  Our role is to encourage incredible people and great programs to come together – a critical combination for a successful retreat.  We are committed to ensuring a seamless process.
Come see all we have to offer by scheduling a tour of our amazing facility.  From well-appointed hotel-style lodge rooms to cabins with bunk beds, you have a variety of housing options from which to choose.
We offer a high level of flexibility, uncommon in a typical hospitality setting, and we'll tailor your event to meet your unique needs.  Our outstanding customer service speaks to excellence in three key areas – sales, on-site hospitality and quality food service.  We can be as formal or informal as you wish.  We are the ideal destination.  Challenge us and let us exceed your expectations!